What will be the best Kitchen knife set for you?. When I started cooking for my family, I was not paying attention for the knives I was using. As long as the knife cuts and I was happy, because at that moment, I didn't realized that a good knife set is very essential for cooking.
Still remember the day visiting friends and my friend asked me to help preparing the dinner. For every job he had a special knife therefore it looked so easy and the results were amazing.
Immediately I discovered that I knew nothing about choosing the best kitchen knife set for me. So my best advice to you all is: Take your time and if you are able to visit a shop which is specialized in kitchen gear, please visit them, feel the knives and ask advice.
The first question will be: are you buying a complete set or will you choose every knife apart. If you take the second option you have to decide which knife you have to search for.
What kitchen knives do I need?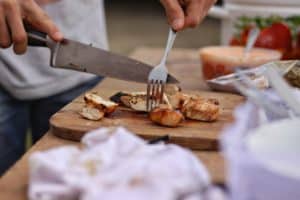 Your best friend in the Kitchen. This knife can be used for almost every job.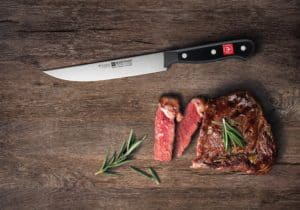 Ideal for cutting meat into nice slices
The serrated blades of bread knives are able to cut soft bread without crushing it.
Paring basically means to cut away the outer surface or to remove the ends from fruit or vegetable.
The little brother of the Chef's knife. It's ideal for more delicate cutting tasks.
Snipping herbs, cutting open food packaging, and breaking down poultry.
To have a complete knife set, you will need a maximum of 5 knives and 1 kitchen shear. Having those 5 items you are top equipped and ready for every job in the kitchen.
You can choose 3 different blade materials
In General there are three main categories: A: Stainless steel knives B: Carbon steel knives C: Ceramic knives
Stainless steel blades are the most used for kitchen knives. This material is very durable and easy to clean.
The blade is much stronger compared with a stainless steel blade. However cleaning needs more attention and they are more receptive for rust.
Where do you keep your Kitchen knives?
If you buy your kitchen knives separately you have to stock them in a safe and properly way. There a several solutions for you.
A: Storage Block B: Knife Rack C: Chef Knives Bag
Wooden knives Block with slots cut into the wooden block to keep the blades dry and protected.
This is my own knives rack and I am more than happy with it. Alternative are the magnetic knife rack that mounts on a wall.
For travelers the ideal way of stocking and carrying in a safe way. please keep in mind that when you are flying you are not allowed to hand carry your knives.