Juice of 1 lime 

1 tsp granulated sugar

Small handfull mint leaves , plus extra sprig to serve 

60 ml White rum

Soda water, to tatse 
Muddle the lime juice, sugar and mint leaves in a small jug, crushing the mint as you go – you can use the end of a rolling pin for this. Pour into a tall glass and add a handful of ice.

Pour over the rum, stirring with a long-handled spoon. Top up with soda water, garnish with mint and serve.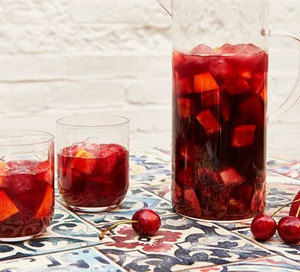 2 oranges

2 pears

2 lemons, 1 chopped, 1 juiced 

200g Red berries/cherrie and strawberries chopped 

3 tbsp cater suger

1 tsp cinnamon

 750 ml Spanish brandy 

300ml Sparkling water 
Put the chopped fruit in a bowl and sprinkle over the sugar and cinnamon, then stir to coat. Cover and leave to macerate in the fridge for at least 1 hr, or ideally overnight.
Fill a large jug with ice. Stir the macerated fruit mixture to ensure the sugar is dissolved, then tip into the jug with the wine and brandy. Stir, then top up with the sparkling water and serve.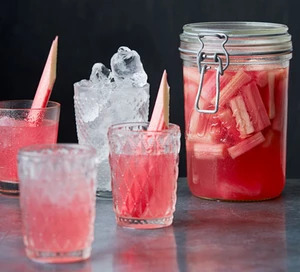 1 kg pink ruhbarb stalks 
400 gr sugar !do not use golden – it muddies the colour)
800ml gin 
Wash the rhubarb, trim the stalks and discard the base and any leaves. Cut the stalks into 3cm lengths. Put in a large jar with the sugar. Shake everything around, put the lid on and leave overnight. The sugar will draw the juice out of the rhubarb

After 24 hrs, add the gin, seal and shake everything around. Leave for about 4 weeks before drinking. You can strain the liquor off through a muslin-lined sieve and transfer to a bottle, but I often just leave the rhubarb and booze in the jar and ladle it into drinks that way. Over time the rhubarb and the gin go a much paler colour – this doesn't look as dramatic. The upside is you that have to get through it fairly quickly!
For the sugar Syrup: 100 gram golden caster sugar 

for the cocktail:

Ice 

100ml vodka

50 ml fesh brewed espresso coffee 

50 ml coffee liquer 

4 coffee beans 
Start by making the sugar syrup. Put the caster sugar in a small pan over a medium heat and pour in 50ml water. Stir, and bring to the boil.
Turn off the heat and allow the mixture to cool. Put 2 martini glasses in the fridge to chill.
Once the sugar syrup is cold, pour 1 tbsp into a cocktail shaker along with a handful of ice, the vodka, espresso and coffee liqueur. Shake until the outside of the cocktail shaker feels icy cold.
Strain into the chilled glasses. Garnish each one with coffee beans if you like.
50ml rye whiskey

25ml lemon juice

2 tsp maple syrup

dash orange bitters

1 tbsp egg white 

ice

20ml red wine
Pour the whiskey, lemon juice, maple syrup and bitters into a cocktail shaker. Stir the egg white with a fork to loosen it, then add it to the shaker. Shake really well to froth up the egg white. Add a good handful of ice and shake again.
Once the outside of the shaker is really cold, double strain into a glass filled with ice.
Slowly pour the red wine on top and leave to settle for a few moments – the wine will rise to just under the frothy egg white. 
ice

50ml vodka

25ml peach schnapps

2 oranfes, juiced, plus 2 slices to garnish

50ml cranberry juice 

glacé cherries, to garnish (optional)i
Fill two tall glasses with ice cubes. Pour the vodka, peach schnapps and fruit juices into a large jug and stir.
Divide the mixture between the two glasses and stir gently to combine. Garnish with the cocktail cherries and orange slices.
50ml dark rum

50ml white rum

1 passion fruit

1 orange juiced

1 lemon juiced

50ml sugar syrup

2 tsp grenadine
To garnish
4 cocktail cherries

2 orange slices 
Fill a cocktail shaker with ice then add the rums. Scoop the flesh and seeds from the passion fruit and add to the shaker along with the orange and lemon juices, sugar syrup and grenadine. 
Shake well until the outside of the cocktail shaker feels icy cold. Fill two hurricane glasses with fresh ice then double strain the drink into the prepared glasses.   
Garnish each one with an orange slice skewered onto a cocktail stick and a couple of cocktail cherries. 
60ml vodka

1 tbsp dry vermouth

olive  or lemon peel, to garnish
Stir the vodka, dry vermouth and a little ice together or put them in a cocktail shaker to combine.
Strain into a chilled martini glass. Serve with an olive on a cocktail stick or a twist of lemon peel.
50ml vodka

crushed ice

150-200ml ginger beer

few dashes of ginger

bitters

To serve
Pour the vodka into a metal mug, julep tin or tumbler. Load up ¾ full with crushed ice, then fill to the top with the ginger beer and stir gently to combine. Add a few dashes of ginger bitters. Serve with a sprig of mint to garnish and the lime to squeeze over. 
2 limes, chopped into wedges, plus extra lime wedges to serve (optional)

5 tbsp golden caster sugar 

200ml cachaça

ice
Put the lime wedges in a large jug with the sugar, then use a muddler or the end of a rolling pin to break them down. Release as much juice from the wedges as possible, and let it mix with the sugar to create a syrup – you can also do this with a large pestle and mortal . Discard the lime peel
Divide the syrup and cachaça between four glasses, then top with the crushed ice. Serve garnished with lime wedges, if you like.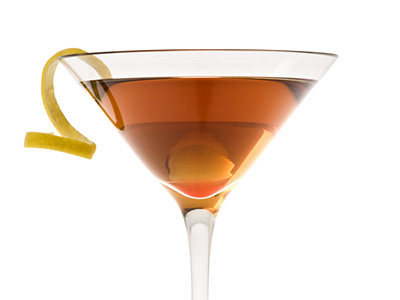 50ml bourbon or rye whiskey

25ml rosso vermouth

5ml syrup from a jar of maraschino cherries (we used Luxardo)

2 dashes Angostura bitters

ice
For the garnish
maraschino cherry

a twist of pared lemon 
Stir the ingredients with ice in a mixing glass, then strain into a cocktail glass. Garnish and serve.
100g blueberries

3 lemons  chopped

2 tbsp granulated sugar 

2mint springs , leaves picked

350ml white rum 

600ml sparkling water
Put the blueberries, lemons and sugar in a jug and muddle. Bruise the mint leaves and add them to the jug with lots of ice. Pour over the rum and sparkling water and stir together.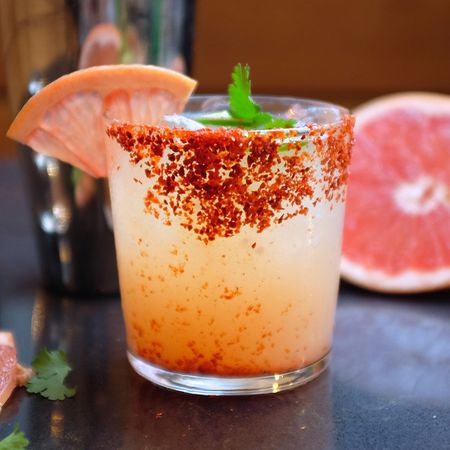 ice

50ml tequila blanco 

10mlagave syrup

10ml lime juice 

60ml pink grapefruit juice 

soda water
For the garnish
sea salt

wedge pink grapefruit 
Dip the rim of a highball glass in a bowl of water, shake off the excess, then sprinkle a spoonful of salt onto a plate or saucer and dip the glass into that to coat the rim
Fill a cocktail shaker with ice, then add all the remaining ingredients minus the soda water. Shake until the outside of the shaker feels cold, then strain into your prepared glass. Add a few fresh ice cubes and top with soda water to serve. Garnish with the wedge of grapefruit.
50ml tequila

25ml triple sec (we used Cointreau)

25ml lime juice

15ml sugar syrup (see 'Goes well with' below)

large handful of ice

wedge of lime , to garnish
Put all the ingredients except the lime wedge in a blender and blitz until smooth. Tip into a cocktail, margarita or rocks glass, garnish and serve.
50ml vanilla vodka

50ml london dry gin 

50ml reposado tequila

50mlrum

50ml triple sec

50-100ml fresh lime juice

ice

500ml cola

2 limes,  cut into wedges
Pour the vodka, gin, tequila, rum and triple sec into a large (1.5l) jug, and add lime juice to taste. Half fill the jug with ice, then stir until the outside feels cold.
Add the cola then stir to combine. Drop in the lime wedges.
Fill 4 tall glasses with more ice cubes and pour in the iced tea.
120 ML pineapple juice

60ml white rum

60ml coconut cream 

wedge of pineapple  to garnish (optional)
Pulse all the ingredients along with a handful of ice in a blender until smooth. Pour into a tall glass and garnish as you like.