Why is it called a Dutch Oven!
Exploring the internet I was surprised to find out the rich stories about the Dutch Ovens.
A Dutch Oven is probably the most famous kitchen item for centuries. Countless books are written, trying to find the origin about the famous Dutch Oven. I never realized that this kitchen item has such a great impact in the cooking history.
A simple dutch pot used already in the 17th century traveled from the Netherlands to England and finally to America where it started to have a new life used by the cowboys and and those who were on expeditions. 
The author John G. Ragsdale wrote a huge number of books all about the Dutch Ovens. John tried to find the true about the famous Dutch Oven History. It's worthwhile reading.
I have two Dutch Ovens myself and I they are every cent worth. I make all kinds of stews or even bread with these Dutch Ovens and honestly knowing now the history of the Dutch Oven I will use it with more respect. 
The Dutch Oven started it's life in the Netherlands, that's undoubtable. After a visit from A. Darby the Dutch Oven travailed to England and from there it was exported to all other countries. America was foremost the biggest user of the Dutch Oven.
So in my opinion we can divide the Dutch Oven in three periods.
The origins of the dutch oven come from the Netherlands (as you might expect from something with the word "dutch" in its name) during the 17th century. 
At the time, the most valued cookware was being made of expensive materials such as copper and brass. And the Dutch were some of the finest craftsmen of the day, supplying much of the world's finest cookware.
The dutch oven has always been a simple concept. At its simplest, the dutch oven is a covered pot. But it's really much more than that. Its earliest uses were for cooking directly in open flames. This is why the pot needed to be so rugged. 
And it is also why the pot needed a well-fitted lid. Who wants embers and ash from a fire getting into their food?
BK is the Royal Founder of the Dutch oven and known throughout at the world for a heritage of innovation.
The timeline of the First Industrial Revolution corresponds with the popularising of Dutch oven cooking in Europe. Darby, after visiting the Netherlands in the early 1700s, observed the Dutch techniques and sought to adopt and modernize them.
A. Darby was one of the first persons who used the industrial espionage and even employed Dutch workers to improve the casting process. 
Directly responsible for the adoption of cast iron cooking is Darby himself. While Darby was satisfied with the traditional sand molds used by the Dutch, the need to make his a more profitable or financially viable enterprise led to the casting of iron.
Ultimately, the cast-iron method was cheaper than sand but it was also a progression from that, which is why the name Dutch oven has stuck three centuries later.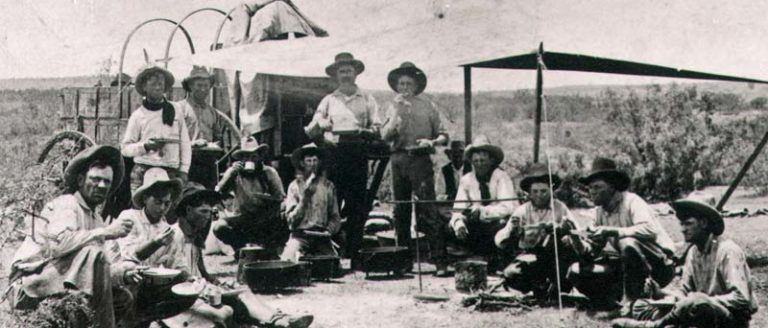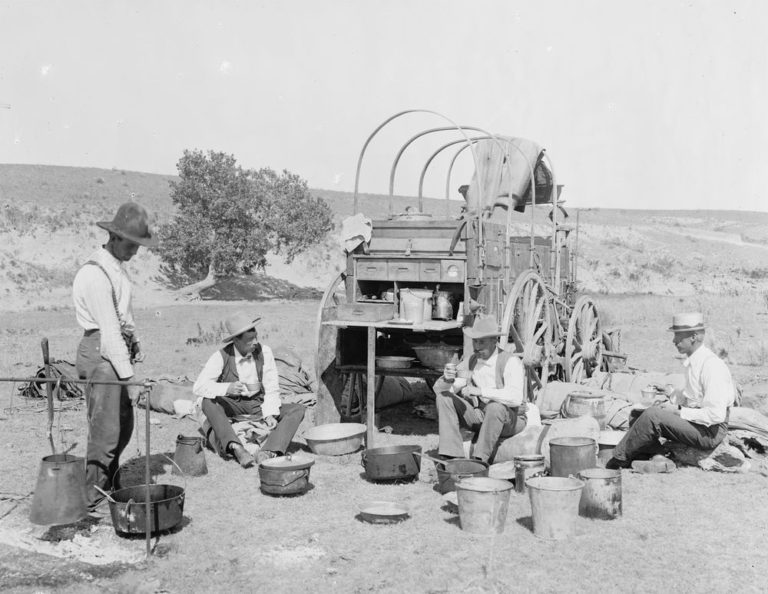 A theory claims that name "Dutch oven" originated with settlers in Pennsylvania who were fine cooks and used pots similar to what Darby designed for cooking almost all of their food.
Where ever the name came from this pot seems to be part of the history of the United States as Dutch Ovens were present at a number of historical events.
An other theory is the following:
Two Dutch ovens accompanied the Lewis and Clark expedition on their epic journey and in fact were the only cooking vessels that accompanied the group the entire trip. 
They were used to feed the workers during the building of the Transcontinental railroad and the miners during the gold rush years. It seems almost every where you look in the history of the U.S. The "Dutch Oven" played a part in feeding the people who built the country.
Joseph Lodge created The Lodge manufacturing company. Started in 1896 the Blacklock Foundry and till today the lodge Company is still producing the Famous Dutch Ovens.
If you find a vintage Griswold-Cast-Iron-Dutch-Oven, buy it direct at any cost because they are extremely rare.
Changes In Dutch Ovens Over The Years
There have been many changes in Dutch ovens over the years and today some of the pots that are often referred to as Dutch Ovens bear little resemblance to the original pot that bore that name. 
Today the term Dutch oven often refers to a flat bottom pot with a round lid and no legs that is made of cast aluminum or cast iron. In fact, the largest manufacturer of "Dutch ovens" Lodge manufacturing refers to these no legged pans as Dutch ovens and calls what was the original Dutch oven which they still manufacture "Camp ovens"
Regardless, of what name this pot goes by it is still being used by people all over the world for a variety of types of cooking. 
Campers depend on the Dutch oven for cooking over open campfires and more and more ordinary cooks are purchasing Dutch Ovens in an effort to learn to perfect the cooking skills and the food their ancestors depended on.
Now you can find a variety of Dutch oven recipes and there are even classes on learning how to cook using Dutch Ovens. For those who have never roasted a turkey using a Dutch oven or baked a pineapple upside down cake in one you don't know what you are missing. 
From very old to brand new
Sneak preview Modern Dutch Oven
TOP 3 DUTCH OVENS MANUFACTORS
Lodge is officially known as the Lodge manufacturing company. Is an American company that manufactures cast-iron cookware, bakeware, and Dutch ovens and has its headquarters at South Pittsburgh, Tennessee, United States. 
The brand was founded in the year 1896. One of the notable things of this brand is that Lodge is one of the oldest and still functional cookware, bakeware, and Dutch oven manufacturing companies in the world. Unlike, other manufacturing brands Lodge is still owned by the lodge family and the manufacturing is done in their cast-iron foundry in South Pittsburgh
Cuisinart is an American manufacturer that designs, manufactures and markets Dutch ovens, cookware, bakeware and home appliances made of ceramic, aluminium, cast-iron etc. 
The brand is currently owned by the firm Conair Corporation and the brand was founded in the year 1971. This brand was founded for introducing the electric food processor to the US market. Conair Corporation acquired Cuisinart in the year 1989, but, they did not change the brand name. Cuisinart today, has its headquarters in Stamford, Connecticut, USA. The brand manufacture and markets products like Dutch ovens, Slow cookers, coffee makers, toasters, bakewares's, cutting boards, grills, hand mixers, food processors, stand mixers, slow cookers, scales, gadgets, and espresso makers.
Le Creuset is a French cookware, bakeware, and Dutch oven manufacturer and has their headquarters in Fresnoy-le-Grand, France. The products from this brand are well-known for its unique and colorfully-enameled cast-iron Dutch ovens, cookware, and bakeware which are also commonly referred to as casseroles or cocottes. 
One of the notable things of this brand is that their cast-iron Dutch oven, cookware, and bakeware are manufactured using the standard sand casting procedure, which is then hand finished and coated with two layers of enamel for long life and high resistance to corrosion. 
You are in for buying a Dutch Oven but immediately many questions will raise the surface. 
Material, sizes, form, color, oven or stove These 4 features you have to consider before buying your Dutch wonder pot.
Stainless steel is easy to clean and maintain, but stainless steel Dutch ovens typically lack a heavy and tight-fitting lid. Stainless steel also does not retain heat nearly as well as other materials. You can cook Dutch oven recipes in them, but your food would better benefit from a material that has better heat retention.
Cast iron (or bare cast iron) makes for a great dutch oven because this metal retains heat for a long period of time making it a great slow-cooker pot and for keeping a consistent oil temperature for deep frying. Bare cast iron can also be used for campfires and outdoor cooking! Remember, bare cast iron requires special cleaning, regular seasoning, and maintenance for it to cook properly. Bare cast iron can also transfer flavors to your dishes which can be a good and bad thing. Tomato and acid-based foods like chili do not react well with the exposed cast iron interior and dis-flavor your dish. Bare cast iron dutch ovens can be heavy but can last a lifetime when properly maintained.
Enameled cast iron has the heat-retaining benefits of cast iron without the hassle of special cleaning and seasoning. The enameled coating covers the bare cast iron and provides an easy-to-clean surface that also doesn't transfer flavors. This material of pan comes in various color options as well to match your kitchen and style. Like bare cast iron, enameled cast iron has a hefty weight. Enameled cast iron pans do have a higher price tag than most kitchen pots, but the price is worth it – these pans can be passed down from generation to generation. 
Ceramic Dutch ovens are the lightest out of all the materials. Emile Henry makes these types of dutch ovens and they're great for stews and baking bread. They can go on the stovetop and into the oven. Because they are ceramic stoneware, they do have a chance of cracking or shattering if dropped or from extreme temperature change.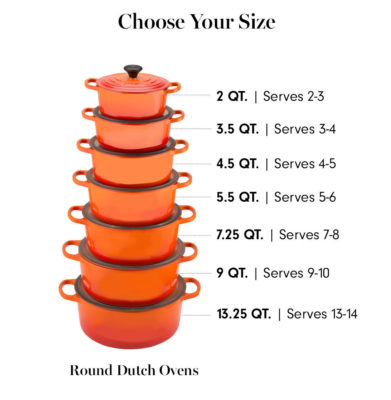 Choose a round dutch oven if:
you cook on the stovetop more than in the oven

you want a deeper cooking capacity

mostly you will cook stews
Choose an oval shape if:
you cook whole cuts of meat in the oven

A whole chicken or turkey fits much better 

you have plenty of storage space.
The great Henry Ford said once;   "You can choose any color so long as it is black".
For sure this is not the case any more for the Dutch Oven. 
Especially Le Creuset is well known for their wide range of beautiful colors